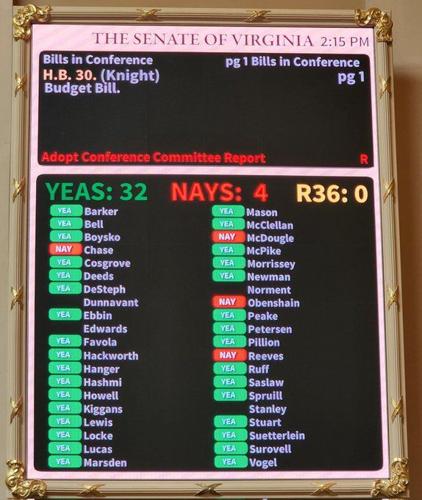 After months of deliberation, the Virginia General Assembly passed their 2022-2024 biennial budget June 1, making several noteworthy investments in middle-class families. The budget passed in the Senate on a vote of 32 to 4.
The 370-page budget deal, was negotiated between a few select Republican delegates and Democratic senators. It is expected to go to Governor Glenn Youngkin next week. He will then have seven days to review it and offer recommendations and line-item vetoes.
In addition to several tax relief initiatives, the budget includes a pay raise for teachers and other government employees, increased education spending and other projects including roadwork and school construction. Although the budget includes some tax cuts, not all of the cuts that Youngkin asked for were included.
The budget also includes $13 million to address gun violence for those cities who are hit hardest. Both parties proposed funding for new initiatives, but they disagreed on the size and scope as well as who should oversee the program. A compromise means the Department of Criminal Justice Services will be in charge of the money which will go into a Firearm Violence Intervention and Prevention Fund and the Operation Ceasefire Grant Fund.
"I'm very pleased with the budget that we adopted today," said Senator Chap Petersen (D-Fairfax). "Over the next two years, the Commonwealth will cut taxes for all Virginians by doubling the standard deduction on income tax filings. He lauded the reduction of the grocery tax while leaving the local portion in place.
Other key provisions included the budget include a refundable earned income tax credit (EITC). This will become partially refundable.
"This provision represents a major victory for working families who have fought for this support for years, and who stand to receive support for years, providing critical assistance with basic expenses like gas, diapers, or electric bills," said officials from Freedom Virginia, an advocacy group working for a more affordable Virginia.
The state standard deduction will increase from $4,500 to $8,000 for individuals and from $9,000 to $16,000 for married couples, with protections built in to preserve state revenue in the coming years. While this issue provides some relief for those in higher tax brackets, it does not help those hurt most by inflation, they said.
Additionally, the 1.5 percent state grocery tax will be repealed effective January 1, 2023, a major relief for the 75 percent of parents that are worried about the cost of groceries. This policy is a victory for advocates who have fought for years against this regressive tax. The 1 percent local grocery tax will remain in place, ensuring localities can fund core priorities such as K-12 schools.
One-time rebates will be given to all taxpayers sometime after the new fiscal year begins July 1: $250 per individual or $500 per married couple.  Freedom Virginia said, "While we applaud this measure to support Virginians while not jeopardizing our revenue streams, it does not account for family size or income level, as a single working mom of three will receive less than a wealthy couple with no children. When it comes to economic relief, we're pushing for equity, not equality, and will push to have future tax relief directed more towards middle-class parents and those most harmed by inflation."
Freedom Virginia has advocated throughout the regular and special sessions for a budget that lowers the cost of living for everyday Virginians. At a time of record inflation and economic struggle, issue champions in both chambers and parties came together to deliver real help for Virginians who need it.
"We heard loud and clear from Virginians throughout the session about their number one concern: relief from rising cost of living. This budget makes critical strides to provide just that," said Freedom Virginia's Executive Director Rhena Hicks. "Eighty-seven percent of Virginians told us that rising prices have had a negative impact on their lives, leading to struggles paying for basic expenses like groceries, electric bills, or rent.  We applaud the many issue champions in both the House and the Senate, especially Senate Democrats, who crafted a budget compromise that will deliver real and tangible relief for Virginians that will leave no one behind.  We will continue fighting for consumers and the middle-class, and standing up to the status quo of entrenched, corporate interests. "
Petersen said that it was gratifying to see priorities in the final budget. "I was glad to be part to the finance team that put the Senate budget together. Finally, we have greatly increased funding for public education with a 10 percent pay increase for teachers over the next two years."